I've talked a lot about how phones are a huge source of distractions and can really mess with your study sessions. Studies have shown that even being distracted for a moment to look at a notification has a massive dent on productivity because it can take up to 20 minutes to get back into the same concentration you were in before.
However.
There are actually some genuinely great ways to use your phone to make your study session a lot more effective.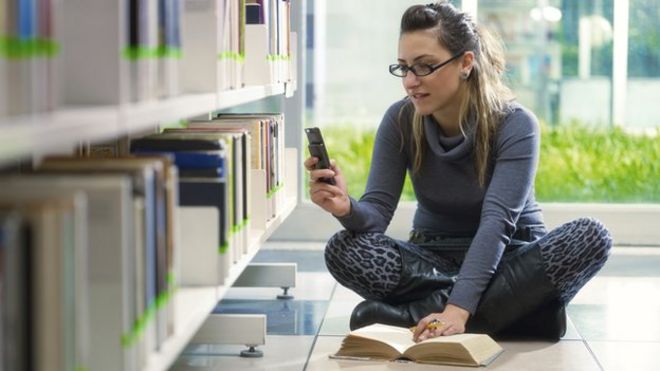 Don't get me wrong. I'll still advocate turning off your mobile phone while in a study session 99% of the time. Not just on silent, but absolutely removing the temptation to even look at it. But there are some really handy apps and sites these days that I use myself to be a lot more productive.
Before we look at that too much however:
Studying is not about how long you spend looking at a book or a computer screen (or a phone screen in this case).
What you get done is far more important than how long you study for. If you're efficient with your studying techniques you can get more done in 2 hours than in 20. So before anything else take an hour or two to improve your studying ability and you'll avoid wasting a lot of time. Better studying results in less work? Too good to pass up.
One of the easiest ways to do this is brushing up on your memory and improving your ability to learn faster. You know who's a master at this kind of thing? Chess players. I'm not suggesting you go and learn chess at the level of a grandmaster (unless you have a spare decade) but, luckily, a grandmaster has an audiobook 'Unlimited Memory' — which you can download for free with Amazon's Audible.
It's about 2.5 hours long but, since it's an audiobook, you can listen when you go to bed or something. I guarantee it'll change the way you study and even if you cancel Amazon lets you keep the entire audiobook. You can download it here.
Out of all the advice I can give on using your phone – putting this audiobook on there and listening to it is probably the best in terms of results. Even stick it on when you go to bed and you can thank me in the morning.Chaithra Shankar
 Chaithra Shankar had a
great answer
for this which covered some other great uses:
Check facts: probably the most common use of all. Both students and teachers can now find facts within seconds. This can be very useful when explaining and debating topics.
Take photos: mobile phones can be used as cameras to illustrate work and presentations.
Make videos: similar to the last point. For example, videos can be used to record experiments and later include them in projects.
Carry out tests: this is probably one of the most interesting and revolutionary uses of the mobile phone in the classroom. Students can now take quizzes and tests on their mobile phone that were created earlier by their teacher. In this way, teachers can gain valuable real-time insight into the knowledge of their students and the effectiveness of their teaching. To implement this technique now, download the ExamTime Mobile App for iOS or Android.
Read the news: many teachers often include news articles as part of their teaching methods (for example, in Economics). With an endless amount of news gathering mobile applications, you can bring news and current affairs into the classroom in an instant.
Dictionary: there are a multitude of dictionary applications that allow you to check the meaning of a word instantly.
Translator: again, this can help with meaning and explanation of a foreign word just like the dictionary application.
Calendar: no more forgetfulness or confusion about exam dates or submission deadlines. Now you have applications that allow you to synchronize calendars.
Write down ideas: inspiration doesn't always come when we want it to. For that reason, try using your mobile device. Smartphones allow us to take down notes any time, any place.
Listen to music: we have spoken before at length about how music helps us to study. Additionally, you do not need to store your songs if you use services such as Spotify or Soundcloud.
Images: as you well know, a picture is worth a thousand words. For this reason, in many cases, students find it easier to understand material when there is an image related to an explanation. Mind Maps are a good example of a tool that helps in this regard.
Review: smartphones allows you to access resources and material quickly before an exam. Don't forget to sign up with ExamTime online and then download the official app for Android or iOS.
Stopwatch/timer: classes, exercises and presentations often come with time limits. Practice your time management by using your mobile phone's stopwatch.
Read eBooks: when learning, applying for a job position or going to University, reading PDFs and manuals can be mandatory. For this reason, applications like Kindle allow us to read books and manuals from anywhere.
Voice Recorder: mobile phone provide students with the ability to record explanations. These recordings can be referred to later on and can save a great deal of time instead of writing. In these cases, always remember to get permission from the teacher first.
Discover related subject material: among many other functions, the ExamTime App lets you search through more than one million study resources created by other ExamTime users.
Document scanner: although it does not offer the same quality as a traditional scanner, the camera of a mobile phone can serve as a scanner. Some teachers even support the delivery of class work through photos (for example, Math exercises).
Calculator: there are numerous applications that enable you to perform all the operations of a scientific calculator. This helps reduce the amount of items students must carry in their bags.
Edit videos: not only can we make videos, but we can also edit them, add text, filters, effects and more.
Edit pictures: the same can be done with images as with videos.
Publish in the class blog: class blogs are an increasingly common exercise these days and help develop writing skills. Thanks to your mobile phone, you can write and post articles at any time.
Track blog visits: the implementation of Google Analytics allows you to check the progress of your class blog from anywhere.